A Quick Take On SoundThinking
SoundThinking, Inc. (NASDAQ:SSTI) reported its Q3 2023 financial results on November 7, 2023, beating revenue but missing consensus earnings estimates.
The firm provides gunshot detection systems to local and federal government entities and public & private infrastructure operators in the U.S. and internationally.
I previously wrote about SSTI with a Hold outlook due to my concerns over revenue growth risks in 2023.
While I'm cautiously optimistic about its weapons detection growth opportunity with the SafePointe acquisition, we may not see that show up in SoundThinking, Inc. financials for some time.
Accordingly, I remain Neutral [Hold] on SSTI in the near term.
SoundThinking Overview And Market
California-based SoundThinking was founded as ShotSpotter in 1996 to provide primarily law enforcement agencies with gunshot detection integrated hardware and software solutions.
The firm is led by CEO Ralph Clark, who has been with the firm since 2010 and was previously CEO of GuardianEdge Technologies before its acquisition by Symantec.
The company's primary offerings include:
Gunshot detection

Investigative tools

Patrol management

Forensic services

Highway security

Corporate security

Campus safety

Weapons detection.
SSTI acquires customers through its direct sales and business development efforts as well as through partner referrals.
According to a 2022 market research report by Allied Market Research, the global market for gunshot detection systems was $580 million in 2021 and is forecast to reach $1.2 billion by 2031.
This represents a forecast CAGR of 7.9% from 2022 to 2031.
The primary reason for expected growth is a rise in urban crime and a surge in adoption by law enforcement agencies tasked with "doing more with less."
Also, the gunshot detection market by application growth is shown in the chart below:
Major competitive or other industry participants include:
3XLogic

Alarm Systems

AmberBox

Databuoy

QinetiQ Group

Raytheon Technologies

Safe Zone

Shooter Detection Systems

V5 Systems

Tracer Technology Systems.
SoundThinking's Recent Financial Trends
Total revenue by quarter (blue columns) has continued to grow; Operating income by quarter (red line) has made some progress toward breakeven in the most recent quarter: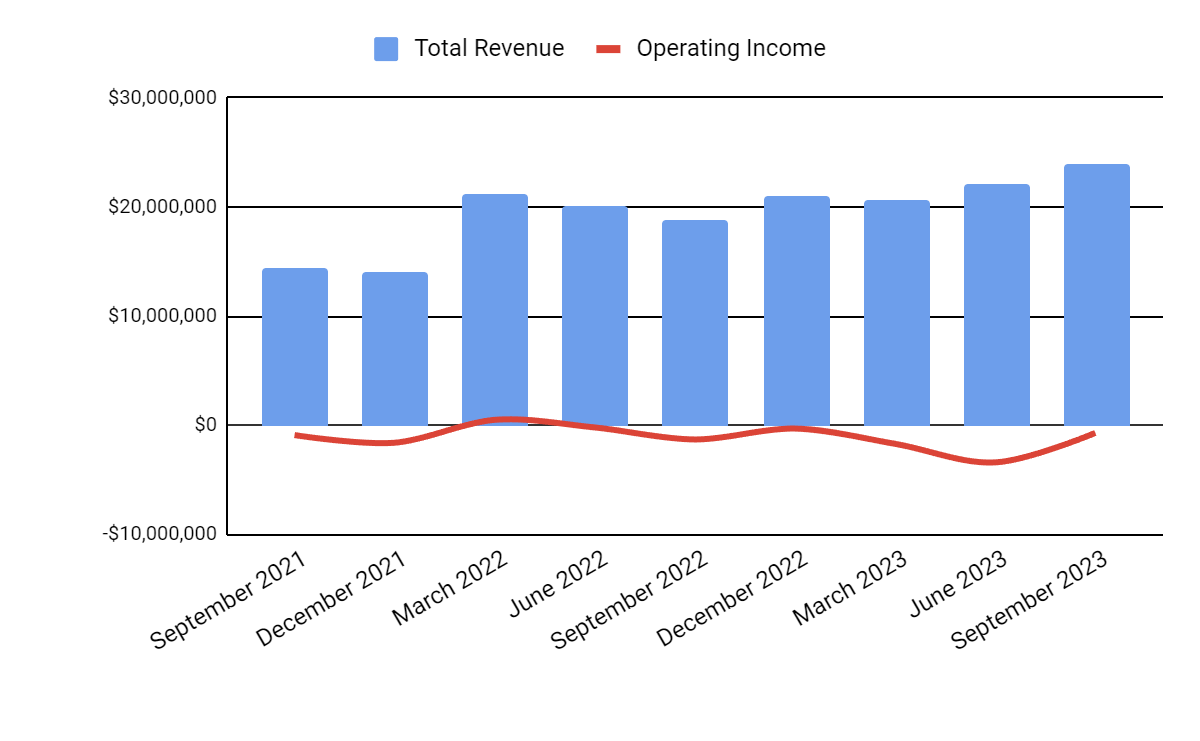 Gross profit margin by quarter (green line) has remained stable; Selling and G&A expenses as a percentage of total revenue by quarter (amber line) have dropped in the most recent quarter: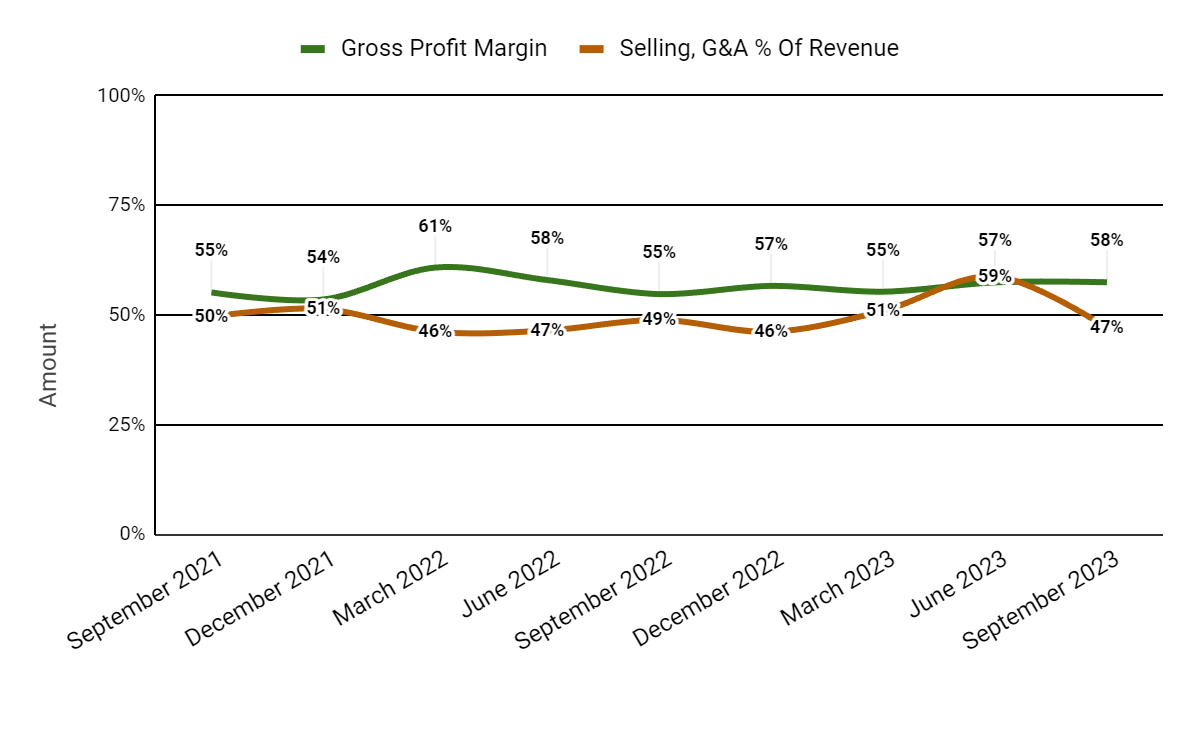 Earnings per share (Diluted) have remained negative in recent quarters: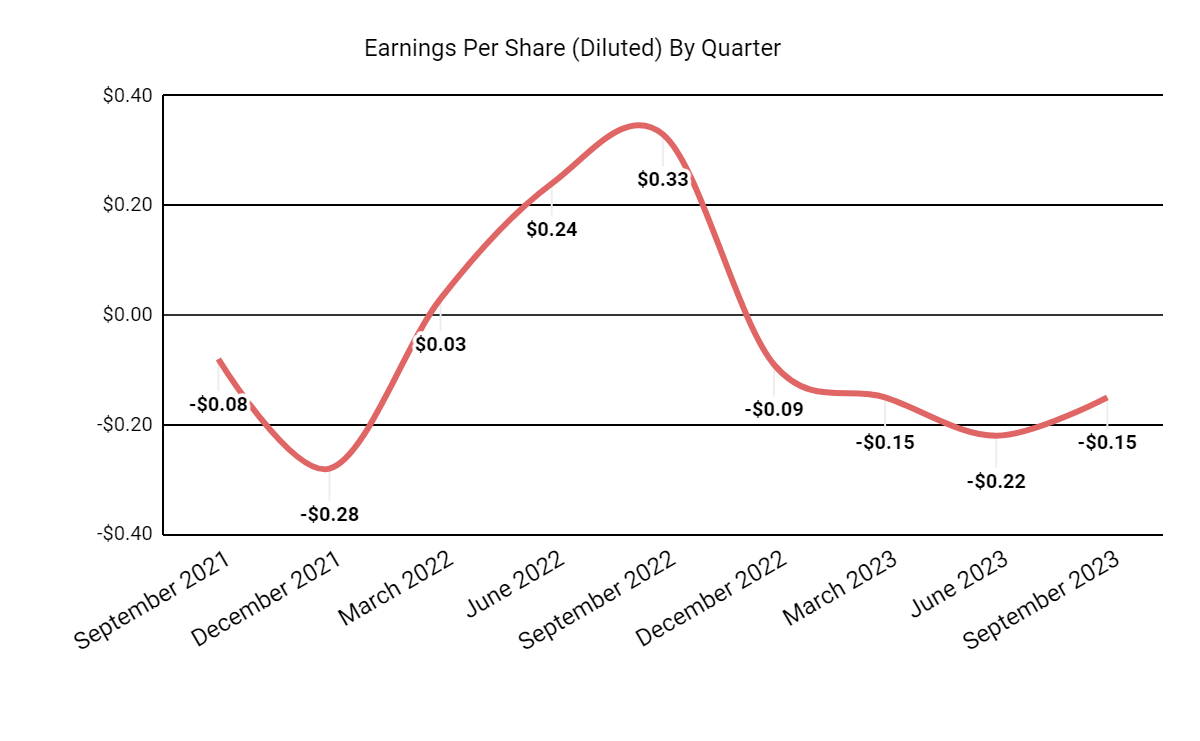 (All data in the above charts is GAAP.)
In the past 12 months, SSTI's stock price has fallen 28.68% vs. that of the iShares Expanded Tech-Software Sector ETF's (IGV) rise of 46.1%. The chart below shows the sharp divergence in April as SSTI sold off and has only recently started to recover:
For balance sheet results, the firm ended the quarter with $6.0 million in cash and equivalents and $7.0 million in total debt, all of which was categorized as the current portion due within 12 months.
Over the trailing twelve months, free cash flow was $6.6 million, during which capital expenditures were $6.2 million. The company paid $9.4 million in stock-based compensation in the last four quarters, the highest trailing twelve-month figure in the past eleven quarters.
Valuation And Other Metrics For SoundThinking
Below is a table of relevant capitalization and valuation figures for the company:
| | |
| --- | --- |
| Measure (Trailing Twelve Months) | Amount |
| Enterprise Value / Sales | 3.5 |
| Enterprise Value / EBITDA | 260.1 |
| Price / Sales | 3.3 |
| Revenue Growth Rate | 18.5% |
| Net Income Margin | -8.5% |
| EBITDA % | 1.3% |
| Market Capitalization | $302,370,000 |
| Enterprise Value | $306,120,000 |
| Operating Cash Flow | $12,750,000 |
| Earnings Per Share (Fully Diluted) | -$0.61 |
| Forward EPS Estimate | -$0.42 |
| Free Cash Flow Per Share | $0.50 |
| R&D / Revenue | 13.1% |
| SA Quant Score | Hold – 2.59 |
(Source – Seeking Alpha.)
Commentary On SoundThinking
In its last earnings call (Source – Seeking Alpha), covering Q3 2023's results, management's prepared remarks highlighted record revenues amid "7 new city captures, two city expansions and one university expansion" during the quarter.
The company recently acquired SafePointe and its AI-enhanced weapons detection capability, which management believes will assist the firm in being able to enter the $20 billion global weapons detection market.
Management believes the weapons detection market is an adjacent market to its core market that can provide new growth opportunities for the firm.
In the earnings call, I tracked the frequency of various terms and keywords used by management and analysts: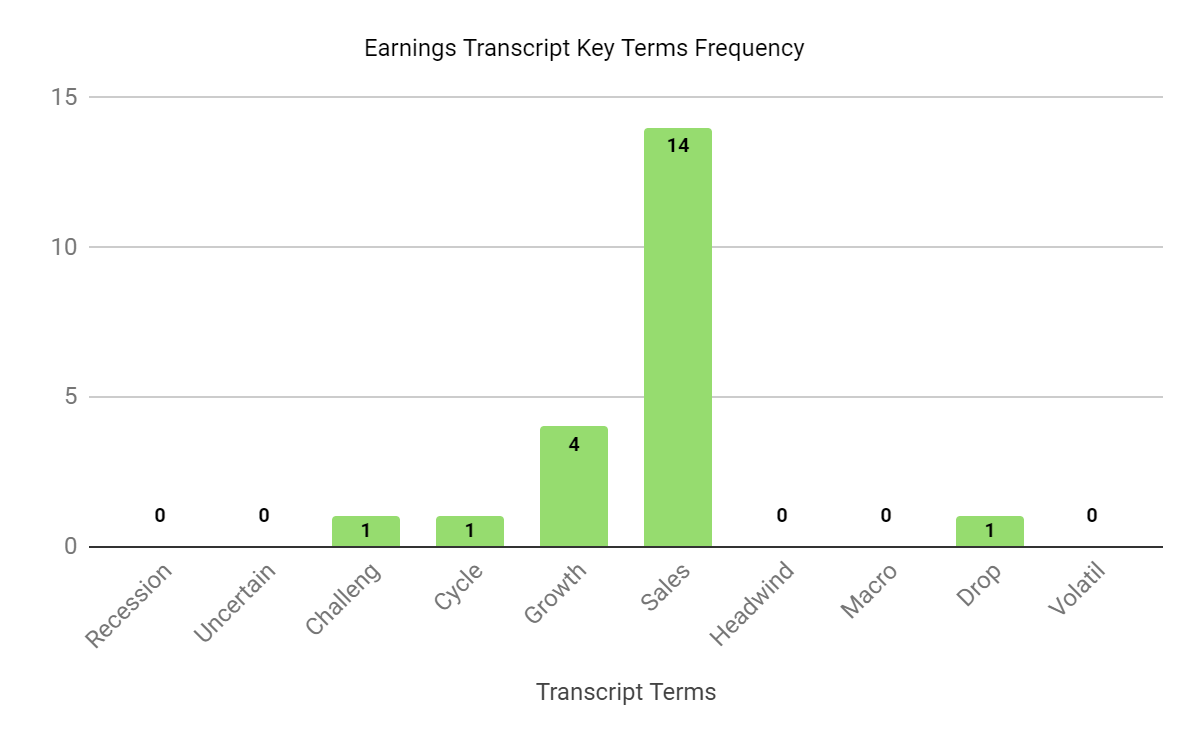 Analysts questioned leadership about its SafePointe acquisition, sales cycles and the firm's pipeline.
Management hopes to accelerate R&D investment with SafePointe as it was under-resourced previously.
Leadership aims to target certain verticals for pipeline development, including the healthcare gaming industries which have a need for intelligent weapons detection.
The company isn't seeing any further elongation of sales cycles with a "very constructive" environment due to positive funding and an unfortunate increase in crime in major cities.
Total revenue for Q3 2023 rose by 27.7% year-over-year, while gross profit margin increased by 2.7%.
Selling and G&A expenses as a percentage of revenue fell by 1.9% YoY, a positive development, and operating losses were reduced by 46.2%, to around $700,000 for the quarter.
SSTI's R&D / Revenue ratio was 13.1% for the last four-quarter period, within the typical range for growth companies.
The company's financial position is moderate, with slightly less liquidity than debt but positive free cash flow.
The firm's debt is all current, meaning it is at risk of needing to be refinanced at potentially a higher interest rate.
Looking ahead, the consensus revenue growth rate for the full year 2023 period is expected to be 14.8% over 2022.
If achieved, this would represent a drop in revenue growth rate versus 2022's much higher growth rate of 39.4% over 2021.
In the past twelve months, the firm's EV/Sales valuation multiple has fallen by 34% net, as the chart from Seeking Alpha shows below:
A potential upside catalyst to the stock could include growth from its SafePointe acquisition and potentially some early customer wins there.
However, the firm will be devoting more R&D and sales & marketing spending to the weapons detection effort, so it may offset the potential revenue effect with higher expenses.
While I'm cautiously optimistic about its weapons detection growth opportunity, we may not see that show up in its financials for some time.
Accordingly, I remain Neutral [Hold] on SSTI in the near term.