To many investors, investing in boring companies is a lot less fun than buying into fast growing companies that are doing cutting edge things. However, from my experience, some of the best investment opportunities involve companies that are as boring as water is wet. Although shares of this particular prospect have underperformed the market in recent months, Sonoco Products Company (NYSE:SON) a provider of various packing solutions, the company's stock is trading at rather low levels. Just the other day, management reported mixed financial results, with revenue missing expectations but profits handily exceeding them. Given the company's performance on the bottom line, combined with management's own guidance for the current fiscal year, I do think that some decent upside is warranted moving forward. As such, I've decided to keep the company rated a 'buy' to reflect my view that the stock should outperform the broader market moving forward.
A mixed quarter
On May 1st, the management team at Sonoco Products Company announced financial results covering the first quarter of the company's 2023 fiscal year. In some respects, the company performed quite well. In other respects, it fell somewhat short. Consider, for starters, the topic of revenue. Sales during the quarter came in at $1.73 billion. This is actually down slightly from the $1.77 billion that the company reported one year earlier. In addition to this, the sales figures reported by management missed analysts' expectations by $114.6 million. The Consumer Packaging segment of the company actually performed quite well, with revenue popping 4.4% year over year. This segment includes products that are largely used to package consumer products and they consist of round and shaped rigid paper, steel and plastic containers, flexible packaging, and more. Revenue here increased thanks to higher pricing, and acquisitions. But these were somewhat offset by a decline in volume and product mix caused by softer demand and metal packaging, as well as a reduction in demand associated with rigid plastic food packaging.

The real pain for the company, then, came from its Industrial Paper Packaging segment. This is the part of the company that's responsible for goods produced from recycled fiber such as paperboard tubes, cones, and cores, as well as a variety of other things that can be used for the packaging of consumer staples, construction materials, appliances, and so much more. Revenue under this segment tanked, dropping 11.9% thanks to continued volume declines and poor product mix. A good portion of this drop, though we don't know how much, can actually be chalked up to asset divestitures, as well as the company's decision to exit the corrugated medium market.
Although the company missed expectations when it came to its top line, it handily exceeded expectations on the bottom line. Earnings per share came in at $1.50. That was $0.23 per share above what analysts thought it would be. This brought net income for the quarter up to $148.3 million compared to the $115.3 million reported one year earlier. A reduction in volume, as well as lower input costs, helped the company immensely on this front. Management's decision to raise prices, as well as the full quarter impact of the company's purchase of Metal Packaging, also helped significantly. Interestingly, profits would have been higher had it not been for higher restructuring and asset impairment costs. These were $28.8 million during the quarter. One year earlier, they were only $12.1 million. On the other hand, the company did also benefit from a one-time $72 million gain associated with asset divestitures. If we strip this out and ignore the restructuring and asset impairment charges in both years, pretax profits for the company would have declined from $160.8 million in the first quarter of last year to $150.1 million the same time this year.
Of course, we should also be paying attention to other profitability metrics. During the first quarter of the year, operating cash flow came in at $98 million. That far exceeded the $1.1 million that the company reported one year earlier. If we adjust for changes in working capital, however, the year over year increase was substantially smaller, with the metric climbing from $182.2 million to $186 million. The only metric to worsen during this time was EBITDA. According to the data provided, this fell from $317.5 million to $276.3 million.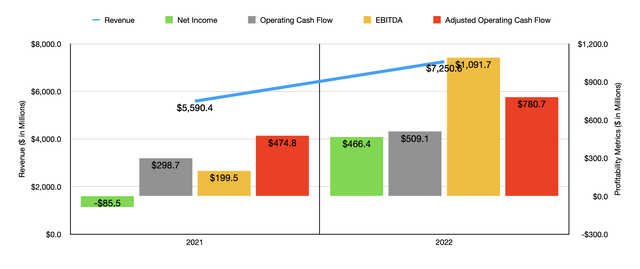 The kind of volatility that the company experienced during the first quarter of the year it's not surprising. To see what I mean, we need only look at financial performance from 2021 and 2022. This data can be seen in the chart above. Revenue jumped during this time thanks to a combination of acquisitions and high product pricing. The company swung from a meaningful net loss to a sizable net profit. Other profitability metrics also improved during this time. But their year over year increases were significantly different from one another.
This makes valuing the company a bit tricky. The good news is that management has provided some guidance for the year. For instance, they believe that adjusted earnings per share should be between $5.70 and $6. Operating cash flow should range between $925 million and $975 million. And finally, EBITDA should be somewhere between $1.10 billion and $1.15 billion. Given the track record of the company from an earnings perspective, I don't believe the valuing the company from a price to earnings perspective makes the most sense in the world. Because of that, I will focus more on its other profitability metrics.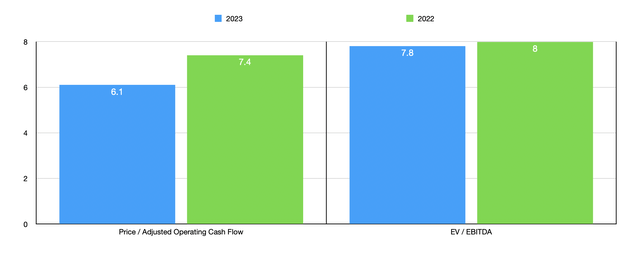 As you can see in the chart above, the company is trading at a forward price to adjusted operating cash flow multiple of 6.1. The forward EV to EBITDA multiple is a bit higher at 7.8. These numbers are both lower than if we were to use data from 2022. But no matter which year we utilize, shares of the business do look quite cheap on an absolute basis. Relative to similar firms, I would argue that the company is a bit closer to being fairly valued. In the table below, you can see it priced next to five similar enterprises. Using both of the profitability metrics, I calculated that two of the five firms were cheaper than it.
| | | |
| --- | --- | --- |
| Company | Price / Operating Cash Flow | EV / EBITDA |
| Sonoco Products Company | 7.4 | 8.0 |
| Graphic Packaging Holding Company (GPK) | 7.0 | 8.1 |
| Packaging Corporation of America (PKG) | 8.6 | 7.7 |
| WestRock Company (WRK) | 3.6 | 5.6 |
| Sealed Air Corp. (SEE) | 10.1 | 11.0 |
| Amcor (AMCR) | 12.3 | 10.5 |
Takeaway
From all that I can see, Sonoco Products Company is an interesting company that is trading on the cheap. When I last wrote about the firm in December of last year, I felt as though the stock were cheap enough to warrant some nice upside. Since then, shares have risen only 2.5% compared to the 7.3% increase seen by the S&P 500. This is rather disappointing. But in the short run, you should anticipate underperformance from time to time. The good news is that shares of the company are still cheap and management remains optimistic about the current fiscal year. Absent that changing, I believe that upside who eventually find the firm and investors who own it at that time will likely be quite happy about the end result.