Share:

Oil price declines as traders take profit and the debt-ceiling impasse continues without a deal in sight.
Set against, however, Oil is supported by EIA inventory data, showing a steep drawdown in the prior week, reflecting rising demand.
Comments by the Saudi Oil Minister warning short-sellers and the start of the US driving season are bullish factors.   
Oil price rolls over and heads south on Thursday due to continued unease around the debt ceiling and traders booking profits from the recent rally. Crude is mainly priced in the US Dollar and this is getting stronger, putting further pressure on the Oil price. The Dollar Index (DXY) has broken above the 104.00 psychological level on safe-haven flows. 
At the time of writing, WTI Oil is trading in the upper $72s and Brent Crude Oil in the upper $76s. A bullish right-angled triangle has completed on the 4-hour chart, posing a challenge to the overall bear trend.  
Oil news and market movers 
A lack of traction in US debt-ceiling talks weighs on the Oil price as it raises the specter of the US defaulting and triggering a global recession.
The US Dollar catches a bid from a combination of safety flows and greater expectations the Federal Reserve (Fed) will continue to hike rates. US macro data remains supportive. 
Energy Information Administration (EIA) inventory data released on Wednesday showed a much larger-than-expected 12.5 million barrel drawdown, indicating robust demand. Analysts' expectations had been for a 775,000 rise. 
Oil was supported by comments from Saudi Oil Minister, Prince Abdulaziz bin Salman, who warned Oil speculators to "watch out" and that they might suffer as they did "in April".
His comments have been taken as warning to short-sellers that the Oil price might rise. 
Abdulaziz defended OPEC and its decision to cut production by 2 million barrels per day (bpd) at its meeting in October 2022. Given the Oil price is at similar levels to October, it may suggest there is a risk the cartel will announce another supply cut in June. 
The US Memorial Day weekend kicks off on May 27 and marks the beginning of the US summer driving season, which will provide a seasonal lift to demand, supporting Oil prices. 
Crude Oil Technical Analysis: Triangle in downtrend
WTI Oil is in a long-term downtrend from a technical perspective, making successive lower lows. Given the old adage that the trend is your friend, this favors short positions over long positions. WTI Oil is trading below all the major daily Simple Moving Averages (SMA) and all the weekly SMAs except the 200-week, which is at $66.89. 
WTI US Oil: Daily Chart
A right-angled triangle has formed since price recovered from the May 4 YTD lows, as shown by the dotted lines. The initial rebound off the May 4 lows could be a Wave A, with Wave B descending between May 8-15. Wave C rose in the week that followed, before pulling back in a Wave D. The recovery this week is probably a Wave E. Since most triangles are only composed of five waves it is now likely complete. It could break out at any moment. 
There is a chance the triangle might break in either direction, but it is biased to break higher because the top border is flat (it is right-angled). A breakout higher could see price rise in a volatile rally to a potential target in the $79.70s, calculated by using the usual technical method, which is to take 61.8% of the height of the triangle and extrapolate it from the breakout point higher. Oil price could even go as far as a 100% extrapolation in bullish cases, however, the 61.8% level roughly coincides with the 200-day SMA and the main trendline for the bear market, heightening its importance as a key resistance level. 
Assuming Oil price reaches its target, a bullish break would mean price moving above the $76.85 lower high of April 28, thereby, bringing the dominant bear trend into doubt.
The three green bars in a row that represent the rally this week (Wave E) and the tentative breakout that accompanied Wednesday's rally, are a strong bullish sign. Price could still recover despite the bearish action on Thursday, and eventually continue higher. 
As well as the triangle, the long hammer Japanese candlestick pattern that formed at the May 4 (and year-to-date) lows is a sign that it could be a key strategic bottom. 
Further, the mild bullish convergence between price and the Relative Strength Index (RSI) at the March and May 2023 lows – with price making a lower low in May that is not matched by a lower low in RSI – is a sign that bearish pressure is easing. 
Given the downtrend is dominant, however, there is still also a possibility WTI Oil price could break lower, with a decisive break below the triangle's lower border, likewise required, and a target at $67.27. This is just above where the 200-week SMA is located and likely to offer support. Traders might even wish to wait for a break below the lows of Wave B at $69.40 for added confirmation.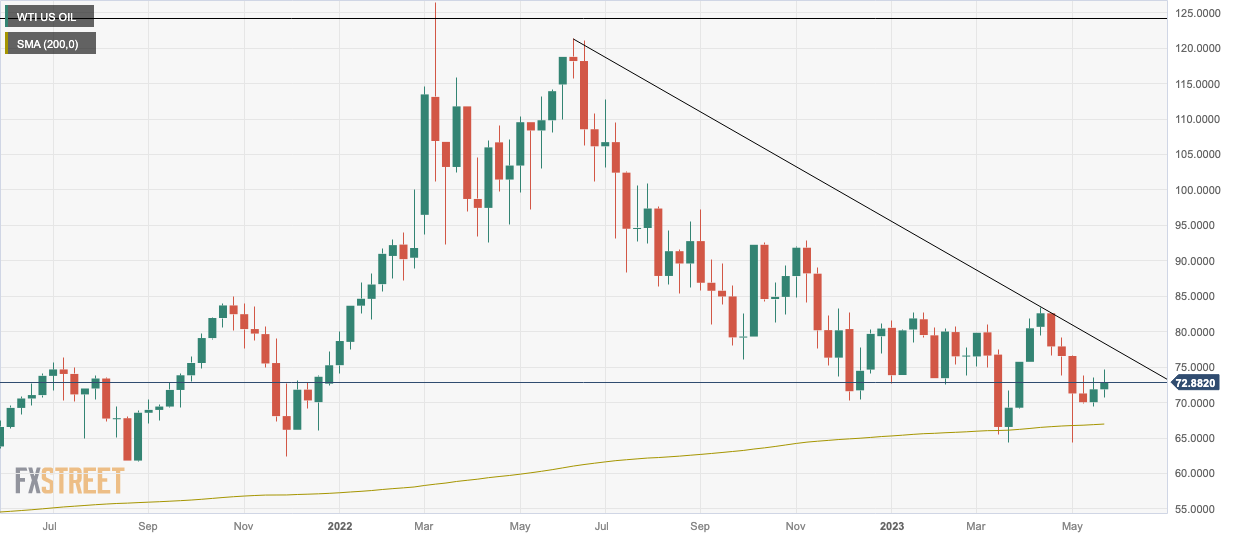 WTI US Oil: Weekly Chart
A break below the year-to-date (YTD) lows of $64.31 would be required to re-ignite the downtrend, with the next target at around $62.00 where trough lows from 2021 will come into play, followed by support at $57.50.
 
WTI Oil FAQs
What is WTI Oil?
WTI Oil is a type of Crude Oil sold on international markets. The WTI stands for West Texas Intermediate, one of three major types including Brent and Dubai Crude. WTI is also referred to as "light" and "sweet" because of its relatively low gravity and sulfur content respectively. It is considered a high quality Oil that is easily refined. It is sourced in the United States and distributed via the Cushing hub, which is considered "The Pipeline Crossroads of the World". It is a benchmark for the Oil market and WTI price is frequently quoted in the media.
What factors drive the price of WTI Oil?
Like all assets, supply and demand are the key drivers of WTI Oil price. As such, global growth can be a driver of increased demand and vice versa for weak global growth. Political instability, wars, and sanctions can disrupt supply and impact prices. The decisions of OPEC, a group of major Oil-producing countries, is another key driver of price. The value of the US Dollar influences the price of WTI Crude Oil, since Oil is predominantly traded in US Dollars, thus a weaker US Dollar can make Oil more affordable and vice versa.
How does inventory data impact the price of WTI Oil
The weekly Oil inventory reports published by the American Petroleum Institute (API) and the Energy Information Agency (EIA) impact the price of WTI Oil. Changes in inventories reflect fluctuating supply and demand. If the data shows a drop in inventories it can indicate increased demand, pushing up Oil price. Higher inventories can reflect increased supply, pushing down prices. API's report is published every Tuesday and EIA's the day after. Their results are usually similar, falling within 1% of each other 75% of the time. The EIA data is considered more reliable, since it is a government agency.
How does OPEC influence the price of WTI Oil?
OPEC (Organization of the Petroleum Exporting Countries) is a group of 13 Oil-producing nations who collectively decide production quotas for member countries at twice-yearly meetings. Their decisions often impact WTI Oil prices. When OPEC decides to lower quotas, it can tighten supply, pushing up Oil prices. When OPEC increases production, it has the opposite effect. OPEC+ refers to an expanded group that includes ten extra non-OPEC members, the most notable of which is Russia.