For those unfamiliar with the VanEck Morningstar International Moat ETF (BATS:MOTI), it is basically the international counterpart of the US-focused VanEck Morningstar Wide Moat ETF (MOAT). Unlike MOAT, MOTI is made only of non-US blue chips, providing exposure to international companies that have an economic moat – a durable competitive advantage per Morningstar's analysts – protecting their business. Furthermore, the ETF's holdings are supposed to be trading at reasonable valuations, since they are removed when their price/fair value becomes excessive.
Whenever international stocks are involved, geopolitical and country-specific risks need to be factored in by investors. While I don't see most of the jurisdictions represented in MOTI as problematic, the ETF does have sizable exposure to China (27.5%), which may not be to every investors' liking. The risk here comes both from China's internal policies that have not been market-friendly in recent years, and from the obvious geopolitical tensions around Taiwan and the Pacific region at large.
In light of the above, the exposure to Taiwan (4%) and to a lesser extent South Korea (3.5%) and Japan (5.5%), should also be on investors' radar. That being said, this country-risk profile is consistent with what many international funds propose, so, within this universe, MOTI is still worth considering. Investors just need to make an informed decision based on their own risk-tolerance.
Beyond MOTI's own merits, there is another reason to follow this ETF's holdings and the semi-annual reconstitutions: it's a great way for stock-pickers to identify solid international stocks trading at decent valuations. The recent reconstitution, in early March 2023, saw the inclusion (or increased weighting) of 20 stocks such as Alibaba (BABA), Kao Corp. (OTCPK:KAOCF) and Ambev (ABEV), and some industrial European names such as Alstom (OTCPK:ALSMY), BASF (OTCQX:BASFY) and Continental (OTCPK:CTTAY). Meanwhile, among the stocks removed were several banks such as ABN Amro (OTCPK:AAVMY), Swedbank (OTCPK:SWDBY) and Danske Bank (OTCPK:DNSKF).
MOTI ETF: An Overview
Note: Investors already familiar with the MOTI ETF and Morningstar's methodology may want to skip this part and move directly to the March rebalance section.
The MOTI ETF is managed by VanEck, which amends the composition of the ETF on a quarterly basis, based on the changes brought by Morningstar to its Morningstar® Global ex-US Moat Focus Index. As a reminder, the moat-investing philosophy is described as follows by VanEck:
Economic Moat ratings represent the sustainability of a company's competitive advantage. Wide and narrow moat ratings represent Morningstar's belief that a company may maintain its advantage for at least 20 years and at least 10 years, respectively. An economic moat rating of none indicates that a company has either no advantage or an unsustainable one. Quantitative factors used to identify competitive advantages include returns on invested capital relative to cost of capital, while qualitative factors used to identify competitive advantages include customer switching cost, cost advantages, intangible assets, network effects, and efficient scale.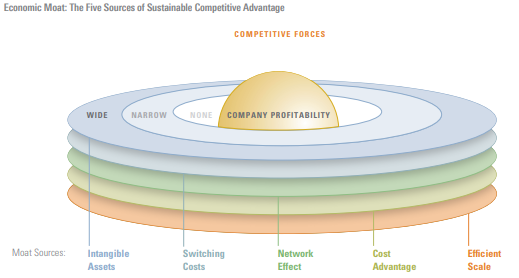 The companies included in the ETF are all deemed to have an economic moat, either narrow or wide. This differs slightly from the US-focused MOAT ETF, which comprises only wide-moat constituents. It implies that in Morningstar's view, there are simply not that many companies with outstanding competitive advantages outside the U.S.
MOTI has a staggered rebalance, to make way for "moated" stocks with more attractive Market Price to Fair Value ratios. The portfolio is divided into two sub-portfolios, each made of 50 stocks (note: a stock can be in both sub-portfolios, which explains why there are "only" 71 stocks in MOTI currently). One sub-portfolio reconstitutes in December and June, the other one in March and September. Readers can find the full composition (71 holdings in total) of MOTI in this document. The top 10 holdings, as of March 30, 2023, are set out below:
The valuations of the constituents look reasonable, with a trailing P/E ratio of less than 11 (see below) and a Price/Book ratio of 1.30 on average. It's worth keeping in mind, of course, that international companies typically command lower multiples than their US counterparts, and that most of the names in MOTI are in mature, slow-growth, industries.
The breakdown by country and sector (as of Feb 28, 2023) was as follows:
March Rebalance: The Removed Constituents
MOTI tends to have a higher turnover than MOAT, and the March reconstitution was no exception, with 20 constituents removed and replaced by 20 new entrants. The removed stocks are shown below, along with the reason for their removal:
The table above indicates that none of these stocks were removed due to a downgrade of their economic moat. 10 names were removed as a result of share price appreciation since the previous rebalance in September, which reduced or closed their discount to fair value and made them less attractive than the new entrants. Meanwhile, 9 stocks were excluded due to slowing momentum, also a factor considered by Morningstar.
The group of removed constituents includes many financials. European banks ABN Amro, Swedbank and Danske Bank could feel the pressure of a cooling real estate market and potential unintended consequences of rate hikes by central banks. China Merchants Bank (OTCPK:CIHKY) and Hong Kong-based Hang Seng Bank (OTCPK:HSNGY) also exited the sub-portfolio. What's more, the holding company of the Hong Kong stock exchange, Hong Kong Exchanges and Clearing Ltd (OTCPK:HKXCY), was another removal from the financial sector.
March Rebalance: The New Entrants
The 20 removed constituents were replaced by 20 new names that Morningstar considered to offer more relative value as of mid-March 2023. The stocks added are set out below:
It's worth taking a closer look at the "wide-moat" rated newcomers specifically. There were four such stocks in March, including Alibaba which needs no introduction. Morningstar expects the planned spin-offs by the Chinese tech giant to create value for shareholders:
We view management's comments on the sale of less strategic investments positively, and we expect there to be capital returned to shareholders following the spinoffs.

Source: Morningstar
Of course, Alibaba is one of those Chinese stocks which can be seen as both attractive from a fundamental perspective (Morningstar's Price/Fair Value ratio of 0.52 implies that the stock was trading at a 48% discount to fair value), and risky from a political one. Investors have plenty of analyses on SA (see HERE) to make up their mind.
Elekta AB (OTCPK:EKTAY), a Swedish medical technology company specialized in neurosurgery and radiotherapy, is another wide-moat inclusion, with perceived upside potential of 50% if sales pick up as Morningstar expects. Kao Corporation, from Japan, is a conglomerate that operates mainly in the cosmetics and personal care space. Margins have been under pressure due to cost inflation but Morningstar is confident that the company will execute on its strategic plan and improve profitability.
The final wide-moat addition is Brazil's Ambev which Morningstar sees – like its peer Anheuser-Busch InBev, already a part of MOTI – as a great defensive stock to own during a recession. According to Morningstar's analysts, Ambev traded at a 26% discount to fair value (Price/Fair Value ratio of 0.74).
Finally, among the "narrow-moat" entries, let's mention some European industrial stocks such as Alstom, BASF and Continental. Alstom stands to benefit from the growing popularity of high-speed train as an alternative to short-haul flights. In Morningstar's view, BASF has implemented cost-cutting measures that could pay off for the chemical giant, while Continental's sales are expected to rebound in 2023 following a year 2022 hampered in the auto parts industry by the semi-conductor shortage.
Those Waiting On The Sidelines
VanEck also provides a list of potential inclusions when the next reconstitution of this sub-portfolio takes place, in September 2023:
Takeaways
The MOTI ETF is worth considering for investors looking for international exposure (including China), and who share the same investing philosophy as Morningstar. It is also a good way for stock pickers to identify individual international stocks worthy of further research.
Editor's Note: This article discusses one or more securities that do not trade on a major U.S. exchange. Please be aware of the risks associated with these stocks.