In an earlier post, we mentioned the record-low reading in the percentage of small businesses perceiving now as a good time to expand. As for what these firms perceive to be their most pressing issues, inflation continues to be the single most prevalent answer at 24%, albeit the gap has narrowed dramatically. Quality of labor is now only a single percentage point behind inflation at 23%, and when combined with cost of labor, the two issues account for over a third of small businesses' biggest problems. From a historical standpoint, inflation, quality of labor, and cost of labor all remain elevated and account for a massive share (58%) of the most pressing issues facing small businesses.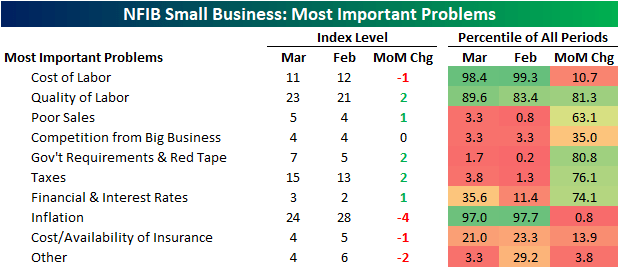 The four percentage point drop month over month in the percentage of respondents reporting inflation as their biggest issue is the largest decline since January when it fell six percentage points. As a result, the category is only down to the lowest level since January 2022 which remains well outside the range of pre-pandemic readings. In other words, inflation has improved compared to last July when it was top of mind for 37% of small businesses, but it is still nowhere near a non-issue.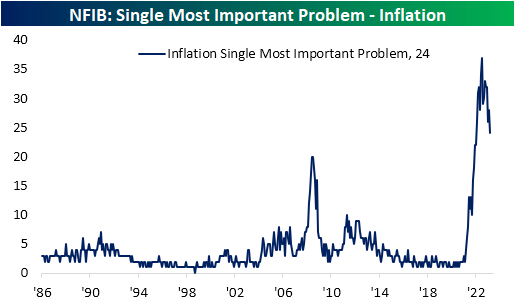 Picking up some of those losses has been government-related concerns. This series has historically held a political bias in which under Republican administrations, small businesses are less concerned with red tape and taxes and vice versa during Democratic administrations. With the surge in inflation concerns during President Biden's tenure, this index has remained historically low but has begun to rise more recently as inflation has improved.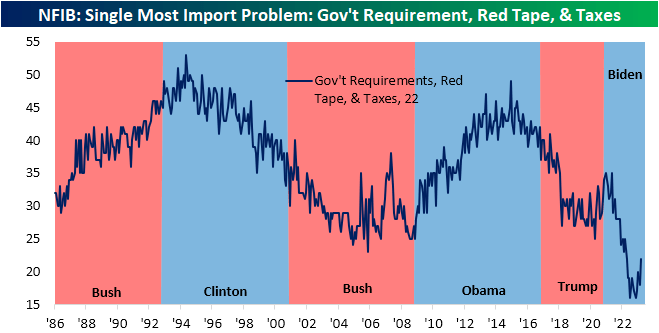 Another area to see a rise in firms reporting it as their biggest problem has been poor sales. While the reading is far from flying, it has begun trending higher now accounting for 5% of responses in March. That pairs with the index for actual reported sales changes which have remained firmly negative for nearly a year now. When poor sales turn into the biggest problem for a small business, you know times are really tough, which is why we'll be watching this reading closely in the months ahead. For now, the reading is still extremely low, which is a good thing.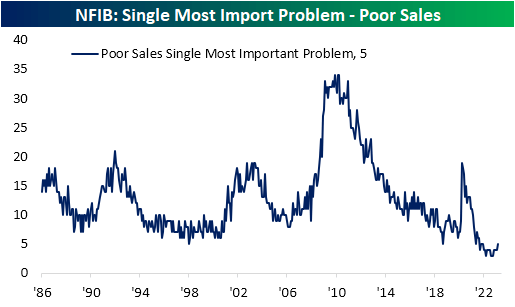 Editor's Note: The summary bullets for this article were chosen by Seeking Alpha editors.