2023 started well enough for Colombian equities on reform hopes post-election, but the difficult reality of implementing these reforms is beginning to sink in for investors. For one, corporates will be funding the brunt of President Petro's reforms, with tax burdens increased significantly for key components of the MSCI Colombia ETF (NYSEARCA:GXG), such as banks and energy. Further compounding the equity headwinds are the slew of Cabinet resignations over the last week, with the most notable casualty being Finance Minister Ocampo, previously an anchor of political independence and economic credibility within the Petro administration. More political pressure looks to be on the cards from here, implying more disruption and financial volatility ahead. Adding to the equity downside is a spiking Colombian risk premium following last week's events, which could trigger more defensive hikes to prevent further FX depreciation. While GXG trades at seemingly rock-bottom valuations (~6x fwd P/E and ~0.7x book), I retain my cautious view on Colombian equities (see my prior GXG coverage here).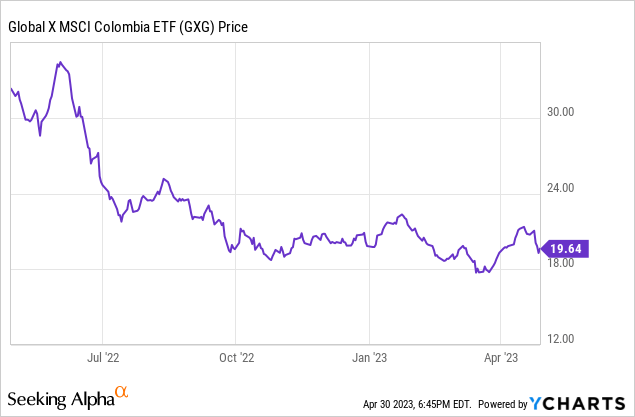 Fund Overview – Low-Cost but Concentrated Colombian Investment Vehicle
The Global X MSCI Colombia ETF offers investors low-cost exposure to a basket of Colombian equities by tracking the performance (before fees and expenses) of the MSCI All Colombia Select 25/50 index. In line with the index it tracks, the ETF invests only in Colombian-headquartered or Colombia-listed companies (as determined by the MSCI Global Investable Market Index Methodology) subject to liquidity and size criteria, among others. The total expense ratio stood at 0.62% at the time of writing, with total net assets of $27.2m (vs $25.6m prior).
Like many other emerging market equity markets, the Colombian equities universe is relatively small. As a result, the GXG portfolio is relatively concentrated. From a sector perspective, the fund maintains an outsized exposure to financials at 36.4%, though this is down from the ~41% prior. The energy sector, GXG's second-largest allocation, remains consistent with last quarter at 25.3 (vs. 25% prior), while the utilities allocation is slightly lower at 20.9 (vs. ~22% prior). Materials and industrials round up the top-five sector list; in total, the top three and top-five sectors account for ~83% and ~95% of the overall portfolio, respectively.
The single-stock allocation also remains concentrated, with the fund holding only 22 names (unchanged from last quarter) in its portfolio. The country's financial services leader Bancolombia (CIB), is the largest holding via preferred shares at 13.1% (down from ~15% prior) and common stock at 7.5% (down from ~9% prior), followed by state-owned Colombian O&G leader Ecopetrol (EC) at 12.9% (down from ~14% prior). The only notable change in the top-five list is the rebalancing away from O&G producer GeoPark (GPRK) to Grupo Energia Bogota (GEB) at 6.1%. With the top five and ten holdings contributing ~48% and ~69% of the GXG portfolio, respectively, this remains a highly concentrated fund.
Fund Performance – Strong Distribution; Disappointing Capital Returns
On a YTD basis, the ETF has declined 0.6% but has depreciated in value by a cumulative 2.2% in NAV terms (-1.4% in market price terms) since its 2009 inception, worsened by a drawdown of 38.0% in NAV terms (37.4% in market price terms) over the last year. The semi-annual distribution has remained strong, however, with last year's $2.49/share distribution equating to a low-teens % yield. Yet, the sustainability of the 2022 distribution is a concern, as the increased income was down to the fund's concentration in cyclical cash generators in the energy space. Expect the yield to normalize lower over time – historical trends suggest investors can expect a mid-single-digits % yield, which should still appeal to income investors.
An Increasingly Challenging Reform Path
After losing support for his healthcare reform bill, President Petro initiated a major cabinet reshuffle last week, replacing seven ministers, most notably Finance Minister José Antonio Ocampo. This came as a negative surprise to the market, driving sharply higher CDS spreads and equity risk premia across Colombian assets. His replacement, Ricardo Bonilla, a long-time ally of President Petro, will replace Ocampo as the new Finance Minister. While Mr. Bonilla is a credentialed economist, the lack of an independent counterweight post-reshuffle (for context, Ocampo was the main economic advisor to a different candidate for the 2022 election) removes a crucial check and balance. For now, at least, expect more of the same on fiscal responsibility, albeit with a greater Keynesian lean per Bonilla's track record as Bogota's finance chief.
With the Petro administration's reform agenda faltering at the first hurdle, though, the fiscal situation could get a lot more challenging in the months ahead. Compounding the economic uncertainty are the weaker growth projections for this year and 'sticky' inflationary pressures, which could delay meaningful fiscal consolidation initiatives. This leaves the onus firmly on corporate taxes to fund the growing interest burden – despite an increasingly challenging backdrop for commodities and energy producers. Also concerning is the prospect of more policy uncertainty, as the recent cabinet reshuffle may not quell the growing discontent within the government coalition. Against this backdrop, equities should come under further pressure amid a rising risk premium on Colombian assets; subsequent defensive hikes by the central bank to protect against currency-induced inflation will add to the equity downside.
Heightened Reform Uncertainty Weighs on the Colombian Outlook
President Petro's substantial planned reforms have fallen short of expectations thus far; last week's Cabinet reshuffle, triggered by a lack of progress on the reform agenda, was a case in point. The loss of Finance Minister Ocampo, in particular, will see the Petro administration's credibility take a big hit, given Ocampo's role as an independent economic and political anchor. There is a good chance Colombia could face more political instability in the coming weeks as a new-look government (complete with a Petro-aligned finance minister) looks to get back on track. With the risk premium moving higher as a result, expect more defensive rate hikes to mitigate FX-driven inflationary pressures; this will further weigh on equity valuations. Even if the reforms are implemented as planned, equity markets could suffer in the mid to long-term from increased tax burdens, particularly in the financial and energy sectors (key components of GXG). So while GXG is down to seemingly discounted trailing valuations, I wouldn't get my hopes up for a re-rating anytime soon.