Goosehead Insurance (NASDAQ:GSHD) provides personal insurance services. The company has achieved a very high amount of growth through its franchising model, capturing market share in a fragmented and massive market. In 2023, Goosehead has achieved a good profitability level after varying margins as the company scales. With current earnings, the company seems very expensive, but as the company continues to grow, Goosehead's story seems quite intriguing for investors.
The Company & Stock
Goosehead offers a unique solution in the personal insurance market. The company hires sales agents for multiple insurance carriers through the agent-operated franchises, helping agencies in growing and optimizing their sales. Currently, Goosehead has over 1400 operating franchises under the company. The company hires franchisees through sales college, providing the company with top-notch franchisees in terms of sales skills.
The company's offering revolves around bringing a better service for the customer than other operators in the industry – the company has a wide range of insurance carriers in its portfolio that customers can be selected for, compared to single-carrier sellers' limited coverage. In addition, Goosehead prides itself on a good service quality through professional independent agents:

After Goosehead's IPO in 2018, Goosehead's stock has performed exceptionally well. Although the stock is far from the high achieved in 2021, the stock has regardless appreciated by 386% in its history: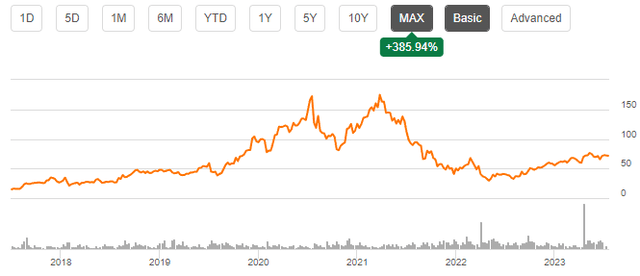 Financials
Goosehead has been able to grow its revenues consistently throughout the company's public financial history. The company has achieved a compounded annual growth rate of 36.3% from 2016 to trailing figures as of Q3/2023: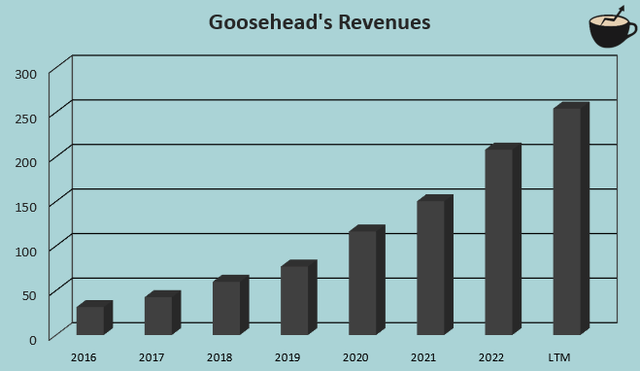 The company should be positioned for significant future growth. In Goosehead's Q3 earnings call, the company's CEO Mark Jones communicated a goal of a premium CAGR of over 30% through 2027. The company has made improvements in productivity and invested in technology to help the organization in scaling. Goosehead is now focusing on headcount growth to accelerate the company's topline; it seems that Goosehead's Q3 growth of 23.3% is lower than the company anticipates for the medium-term.
So far, Goosehead's profitability has varied as the company has scaled its operations. From 2016 to trailing figures, the company's average EBIT margin has been 8.3%:

As Goosehead has had a focus on improving agent productivity, the company has achieved a good margin level in 2023 so far with a trailing figure of 13.8%. The company is refocusing on growing headcount but is still simultaneously concentrating on agent productivity. The equation's effectiveness is yet to be seen, but I believe that Goosehead's strategy should work quite well. In addition, I believe that the company's needs for incremental SG&A is quite low as the technological framework should be in place for a large scale – with growth, Goosehead should be able to grow the margin substantially into a very high level. Mark Jones communicated an adjusted EBITDA margin goal of 40%, which I believe should correspond to a GAAP EBIT margin in the mid-twenties.
Valuation
As Goosehead's profitability has varied massively so far, I believe that the stock's EV/S ratio best describes Goosehead's valuation when compared to its historical valuation. Currently, the stock trades at a forward EV/S of 5.7, below the company's average of 8.2 since its IPO and massively below the 2021 high of 23.0: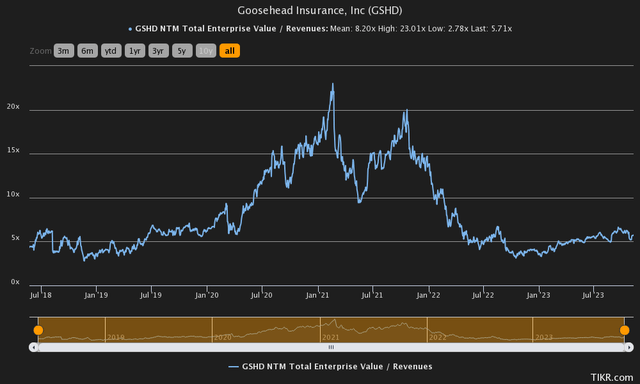 The EV/S ratio alone doesn't contextualize the valuation well enough, though. To further contextualize the valuation and to estimate a rough fair value for the stock, I constructed a discounted cash flow model in my usual manner.
In the model, I estimate a high amount of growth for Goosehead going forward, as the company has significant fundamental drivers fueling future growth. I estimate a growth of 27% for 2023, in line with Goosehead's guidance. Beyond the year, I estimate a growth of 29% for 2024 and 28% for 2025, slightly lower than the management's premium growth goal of over 30%. After the years, I estimate the growth to slow down into a figure of 8% in 2032. In total, the mentioned revenue estimates correspond to a CAGR of 19.4% from 2022 to 2032.
I believe that Goosehead's margins are quite scalable. As mentioned, the company's technology is mostly in place, and the company can collect future revenues with a lower percentage going into SG&A. The company also has a focus on improving franchisee productivity, driving higher margins for the company. I estimate the EBIT margin to scale into an eventually achieved level of 24.6%. I believe that this estimate is quite in line with the management's views of an adjusted EBITDA margin of forty percent, which I see as achievable. Unlike my usual method of a perpetual cash flow growth, I believe an exit EV/EBIT multiple fits better for a company with growth when going into the terminal value. In my opinion, an EV/EBIT exit multiple of 15 seems reasonable.
Altogether, the mentioned estimates along with a weighted average cost of capital of 11.60% craft the following DCF model with a fair value estimate of $90.25, around 26% above the price at the time of writing:

The used weighed average cost of capital is derived from a capital asset pricing model: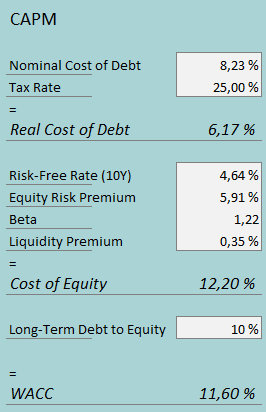 In Q3, Goosehead had $1.6 million in interest expenses. With the company's current amount of interest-bearing debt, the company's annualized interest rate comes up to a figure of 8.23%. Goosehead currently leverages debt very moderately, but I believe that as the company grows and its cash flows improve, Goosehead should be able to draw more debt. I estimate a modest long-term debt-to-equity ratio of 10%. I believe that the company's interest rate could be lower and its debt-to-equity ratio higher in the future than I estimate making the company's financing cheaper, but for the time being, I see my estimates as reasonable.
On the cost of equity side, I use the United States' 10-year bond yield of 4.64% as the risk-free rate. The equity risk premium of 5.91% is Professor Aswath Damodaran's latest estimate for the United States, made in July. Yahoo Finance estimates Goosehead's beta at a figure of 1.22. Finally, I add a small liquidity premium of 0.35% into the cost of equity, crafting the figure at 12.20% and the WACC at 11.60%.
Takeaway
Goosehead seems like a highly intriguing pick. The company has been able to drive exceptional performance in terms of growth and operates in a massive industry with almost unlimited market share to capture from this point. The company's business model seems very competitive as it combines a good selection of carriers with an excellent sales team. The valuation does seem quite steep with current earnings, but I believe that the company can scale its earnings very well. My DCF model estimates the stock to be undervalued with estimates that I see as reasonable, constituting a buy rating.