Introduction
European Wax Center, Inc., (NASDAQ:EWCZ) is the franchisor of almost 1,000 "salons", growing their network by about 10% per year, presenting an unblemished ten year record of unit growth and same store sales progress, with corporate EBITDA of $70-71M in the calendar year just ended. At the same time, EWCZ is relatively unknown to most investors. A relevant indication here is that there are only 306 followers within the Seeking Alpha network, as opposed to 12,740 for Planet Fitness (PLNT), 9,000 for Wingstop (WING), and 34,000 for Domino's (DPZ). Those three are a lot larger, and publicly held longer, to be sure, but, as we describe below, ever indication is that EWCZ will be many times the size it is today.
My firm follows every publicly held restaurant company and (right now) nine dynamic non-restaurant franchising companies. Royalty receiving, asset light, free cash flow generating companies such as these are attractive to public and private equity investors alike, especially in a slow growing economy. An ideal investment in this regard is one that has: (1) Attractive unit level economics for the franchisee (2) A system large enough for the brand to draw in customers and for the franchisor to have the scale and the financial power to properly support the franchise system. Royalties are not "free cash flow". The franchisor must provide services for site selection, training, marketing, technology, etc., (3) A franchise system that is growing steadily in terms of units (4) A franchise system where existing franchisees are providing a great deal of the systemwide growth, validating the attractive store level economics (5) Growing annual same store sales, which provides improving store level economics (6) A publicly held franchisor with a strong enough balance sheet and free cash flow to enable dividends and/or stock buybacks, "returning cash to shareholders" while investors wait for their stock to appreciate.
Wingstop, Planet Fitness & Domino's are good examples of successful franchise systems, and stocks, all of which my firm has followed closely for years. All have rarely sold at inexpensive prices (mostly in the middle of general market corrections, such as the beginning of Covid) but all have increased by many times since 2015, when Wingstop and Planet Fitness came public.
The Highlights Of European Wax Center
On August 4, 2021, European Wax Center came public, selling 8.9M Class A shares at $17.00 per share. Their parent, General Atlantic, LP, sold $1.7M shares as well. The stock trended higher into the twenties, where, on November 10, '21, the Company sold 2.4M shares at $26.25, as did General Atlantic, who sold an additional 5.1M shares in May '22. at $21.50 per share, after all shareholders received a special dividend of $3.30/share in April'22.
As succinctly described in a recent corporate release:
"European Wax Center, Inc. is the largest and fastest-growing franchisor and operator of out-of-home waxing services in the United States providing guests with an unparalleled, professional personal care experience administered by highly trained wax specialists within the privacy of clean, individual waxing suites. European Wax Center, Inc. continues to revolutionize the waxing industry with their innovative Comfort Wax® formulated with the highest quality ingredients to make waxing a more efficient and relatively painless experience. Delivering a 360-degree guest experience, they also offer a collection of proprietary products to help enhance and extend waxing results. Founded in 2004, European Wax Center, Inc. is headquartered in Plano, Texas. Its network includes 944 centers in 45 states as of December 31, 2022."
To elaborate on their description, EWCZ is by far the largest out-of-home waxing participant in an $18B annual domestic hair removal industry. They are six times larger than their most prominent competitor, mostly competing with local salons. With 944 locations as of 12/31/22 they have provided a long term target of 3,000 locations.
The following charts, from the Investor Presentation, describes the "moat" around EWCZ' business model.
The Unit Level Economic Model
The up-front cost for a franchisee is about $350,000. Historically, the results have trended toward break even cash flow early in year one, with sales on the order of $500,000. Sales continue to grow above to above the $1M mark and a 60% cash on cash return in year five. This model has been sufficiently attractive that 66% of the 217 franchisees are operating multiple locations, and over 90% of new stores are being built by existing franchisees. Since franchisees vote with their pocketbooks, the expanding financial commitment by the existing franchise partners represents a tangible endorsement of the brand. It is worth noting, on the chart below, the consistency of the maturity curve between development years.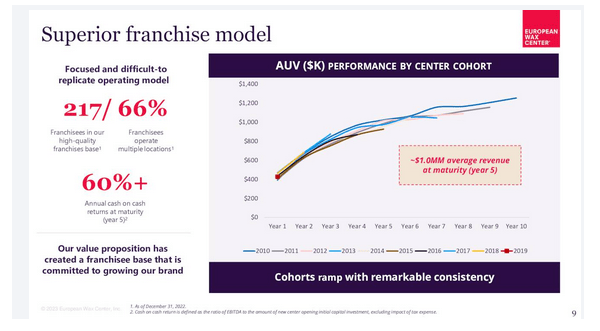 The Growth Is Continuing
As shown in the earlier chart, 46 stores opened in '20 (with the world shut down) and 57 more In '21, as Covid abated. Calendar '22 provided a record 91 new locations, and it is reasonable to expect the roughly 10% rate of unit growth to be maintained. There are 400 locations in the near term development pipeline, with a stated long-term objective of 3,000 units. Moreover, franchising history has shown that successful brands invariably find more possible locations to explore as they approach initial targets. It is also true that the Company has not yet discussed expansion beyond the US, which no doubt provides additional opportunity. Finally, the fact that so many franchisees are operating multiple units should allow for sustainable, controllable systemwide growth.
Balance Sheet and Capital Allocation
As of 9/24/22, the last SEC filing, total debt (net of cash) was $357M, which was about 5.3x trailing twelve month adjusted EBITDA. This is a leverage ratio fairly typical of pure franchisors. The successful, profitable, publicly held appropriate "capital allocators" of the free cash flow declare periodic dividends and/or buy back stock in the open market to reduce the shares outstanding. EWCZ has a $40M share buyback plan in place and has already declared a special $3.30/sh. dividend, so has established an admirable precedent.
Valuation and Conclusion
At the current time, as shown in the table below, excerpted from my website, the Enterprise Value of EWCZ was 17.0x Trailing Twelve Month Adjusted EBITDA as of January 3, 2023. Repriced as of the moment, it would be about 20x.
While this magnitude of valuation should not be considered a bargain, at least not in the short term, it is consistent with that of other high quality franchisors, and materially lower than some. Wingstop currently trades at over 50x TTM EBITDA. Plane Fitness in the mid twenties, Domino's at about 20x.
The key question is the predictability of the business model. While European Wax Center is considerably smaller than others we have mentioned, they have an admirable record of success, have reached a critical mass (with an established group of multi-unit franchisees) that should provide for sustainable future steady growth, and the unit level business model is among the most attractive in the franchising world.
Everybody likes a bargain, but Warren Buffet taught us that it is OK to pay a fair price for quality and it works out well over time. My personal strategy, relative to European Wax Center has been to take a partial position, and hope for a general market correction that gives me a chance to, as Peter Lynch used to say, "back up the truck". EWCZ is one I would like to own for the long term.
Roger Lipton