Bristol-Myers Squibb (NYSE:BMY) has been a lackluster major pharmaceutical pick for investors for years. For example, total returns of +19.6% over the last five years have lagged the S&P 500 index badly (+66.7%), while delivering just half the gains witnessed by the pharma industry as a whole (+40.5%). And, late 2022 to August 2023 has been a particularly rotten stretch to own BMY.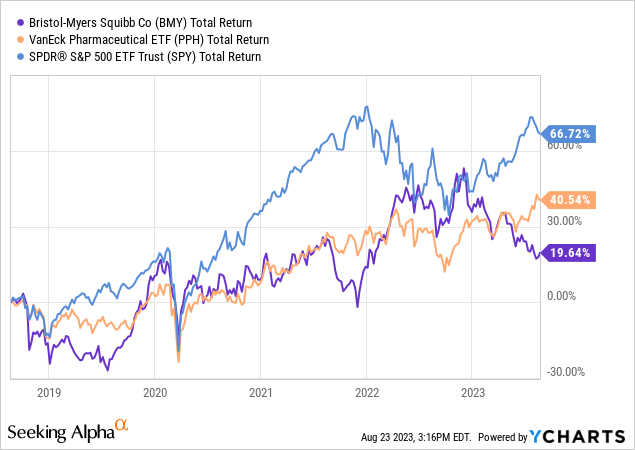 So, with headlines in the news about Medicare drug price negotiations approaching, what should investors do?
I am actually leaning toward buying shares on 2023's weakness for two important reasons. First, I am interested in BMY because big drug company names often outperform nicely in bear markets and recessions. In my research, another large stock market selloff, a function of an economy likely to slip into recession, is my macro forecast over the next 6-12 months. Second, the long-term value proposition for Bristol-Myers vs. both its trading history and relative pricing to peer prescription drug leaders is about as strong as it has ever been. If you will, this stock could be a solid pick, moving against the crowd over the coming year, in a kind of an arbitrage, reversion-to-the-mean upmove.
Bristol-Myers Recession Performance
During recessions (negative GDP for several quarters) crossed with bear markets (-20% or greater declines in price) since 1989, Bristol-Myers has been a terrific choice to own, really in every modern circumstance. The 1990-91 Persian Gulf War, 2000-02 Dotcom Tech Bust, 2007-09 Great Recession, and 2020 Pandemic periods all outlined waves of either robust "outperformance" on the downside or outright positive gains for BMY shareholders. I have drawn the last four recessionary spans (shaded in grey) below for you to review. I am comparing the total returns delivered by Bristol-Myers vs. the equivalent S&P 500 index performance.
1990-91 Persian Gulf War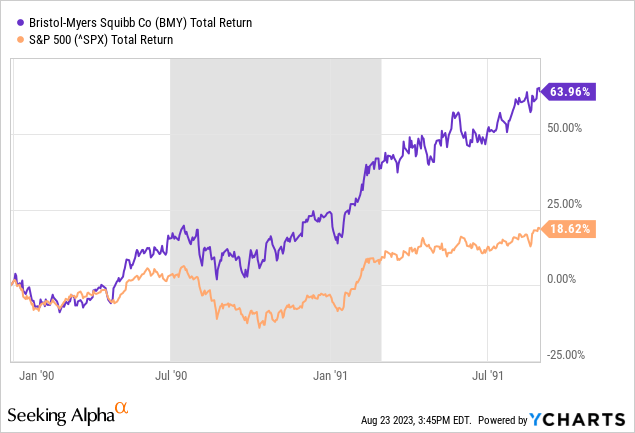 2000 Tech Peak & Bust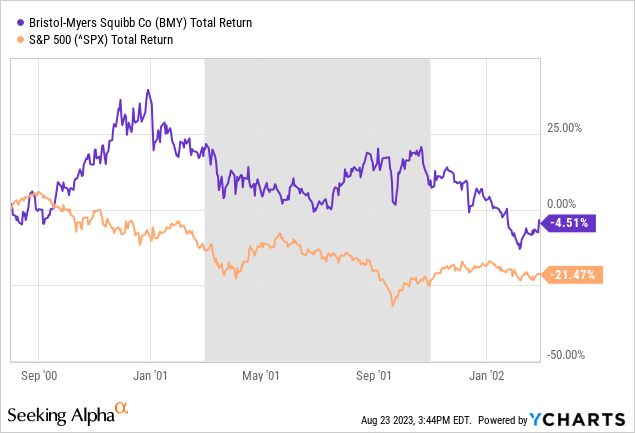 2008-09 Great Recession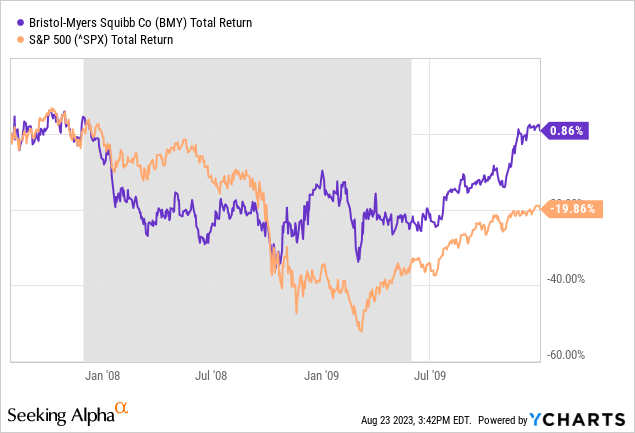 2020 COVID-19 Pandemic Closure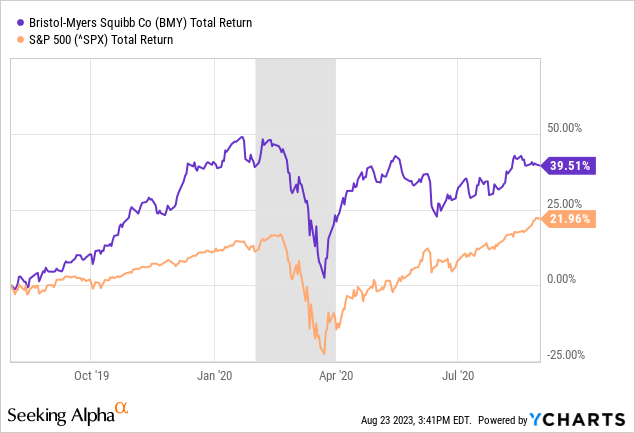 Undervaluation Stats
The good news is BMY's valuation is quite attractive today on the 2023 weakness in its share quote. My view is a baseline foundation is now in place for defensive investors. All we need is a bear market and recession to encourage extended-valuation growth names (Big Tech) to decline, as money flows into safer, old-school pharmaceuticals with sustainable and easily covered dividend yields.
Below is a graph back to 1990 comparing Bristol-Myer's prevailing free cash flow yield to trailing U.S. consumer price index rises. In a perfect world, you want to own businesses generating an earnings or free cash flow yield well above the inflation rate. BMY passes this test with flying colors presently, sitting at a positive relative-adjusted return of +4.9% annually.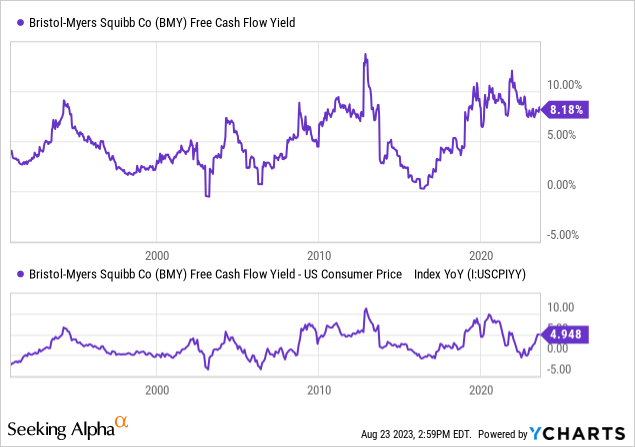 Then, we can look at how share valuation ratios on basic fundamental business data points stack up vs. recent trading history. Believe it or not, BMY is not far off 10-year lows on price to trailing earnings, sales, and regular accounting cash flow.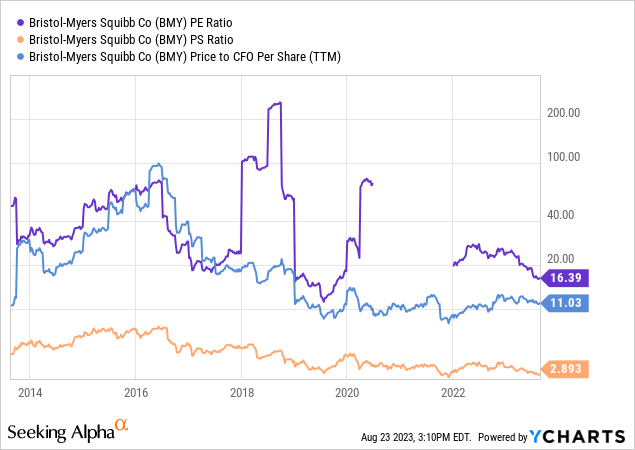 On forward earnings estimate (one fiscal year ahead), analyst projections peg Bristol-Myers P/E as one of the cheapest in the Big Pharma area at 7.8x. Measured against peers/competitors like Pfizer (PFE), Eli Lilly (LLY), AbbVie (ABBV), Amgen (AMGN), Biogen (BIIB), Gilead Sciences (GILD), GSK PLC (GSK), Novartis AG (NVS), Johnson & Johnson (JNJ), Merck (MRK), and AstraZeneca PLC (AZN), BMY is priced at a 40% discount to the median average!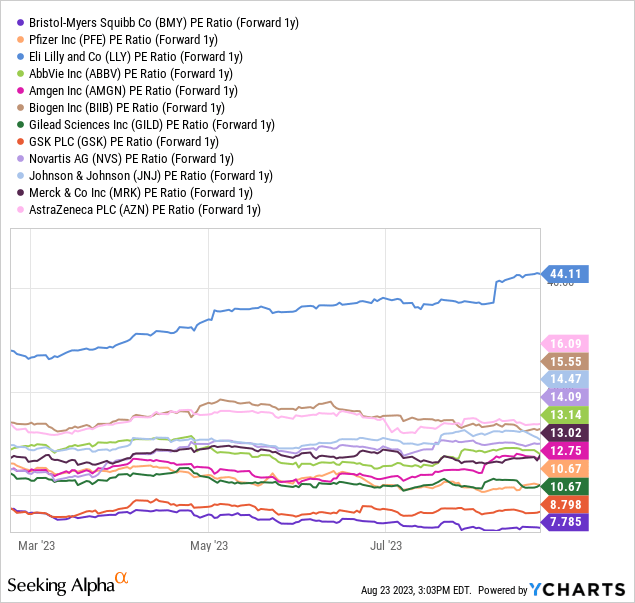 Why is it so inexpensive vs. alternative?. One reason is earnings growth is expected to be slightly subpar vs. the industry over the next five years. Another is debt levels are somewhat higher than average in Big Pharma. Below is a graph of overall annual cash flow to total financial debt. You can see BMY's 0.3x is a tad below the 0.35x median group average.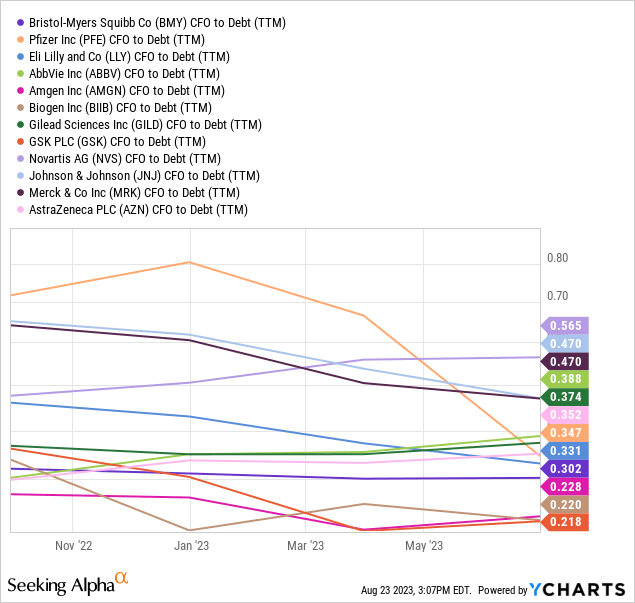 And, with numerous OTC products sold at lower margins, combined with higher interest costs on debt, total company margins are a little below the sector average at 17.6%. However, this margin level is more than DOUBLE the typical S&P 500 company (not pictured).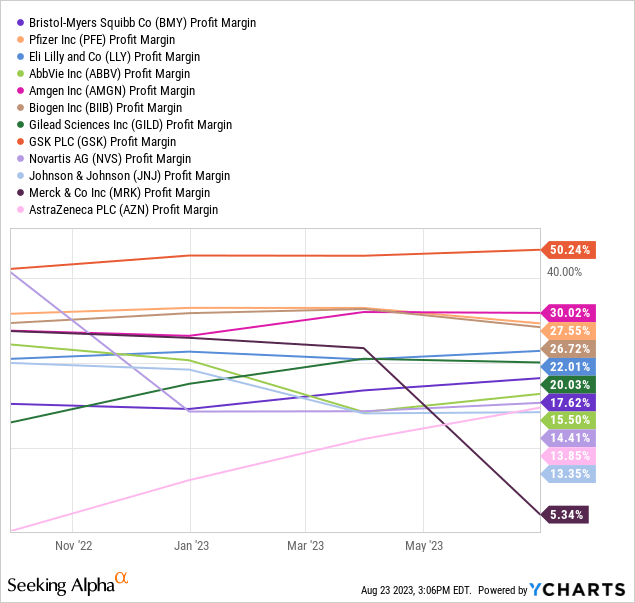 Even when we include debt in our enterprise valuation calculations, the company stands out as trading near bargain territory. Since 1988, EV to EBITDA has only been lower during the tail end of the 2009 Great Recession into 2012. The EV to sales ratio is not as inexpensive, but remains around its 35-year average.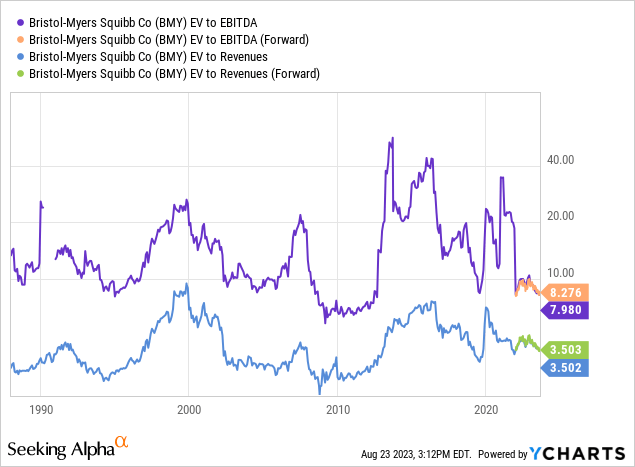 EV to forward EBITDA estimates again place Bristol-Myers near the bottom of the barrel vs. peers. The 8.3x projection is a near 35% discount to the group median average.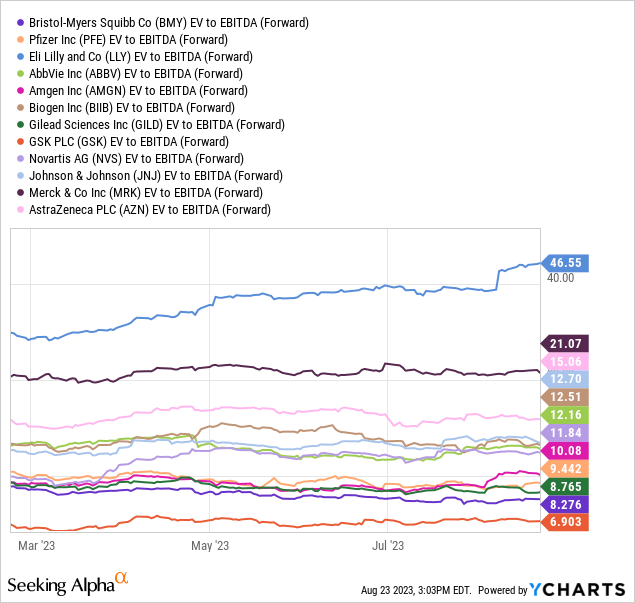 Again, the EV to forward sales ratio of 3.5x is trading at a rough 20% discount to peers. When we start to combine all of these stats vs. the peer group, BMY begins to jump out as a materially cheaper Big Pharma pick than nearly every other alternative.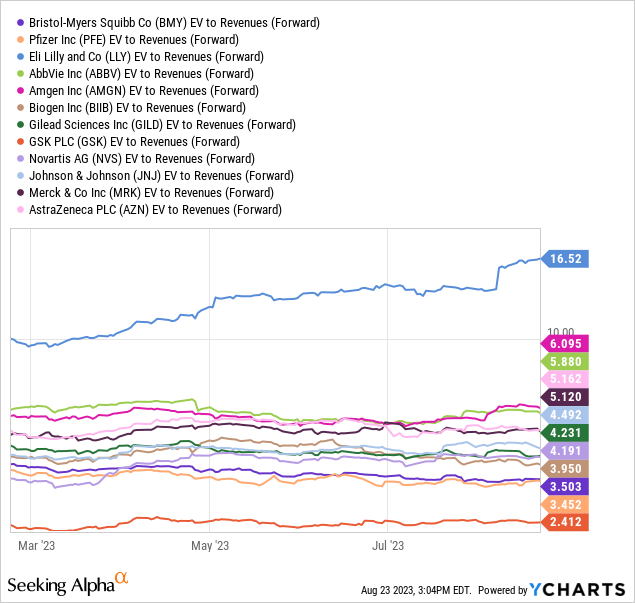 Lastly, the dividend yield of 3.65% is double the S&P 500 rate and triple that of the Big Tech Nasdaq 100. It is also smartly above average vs. the pharmaceutical industry.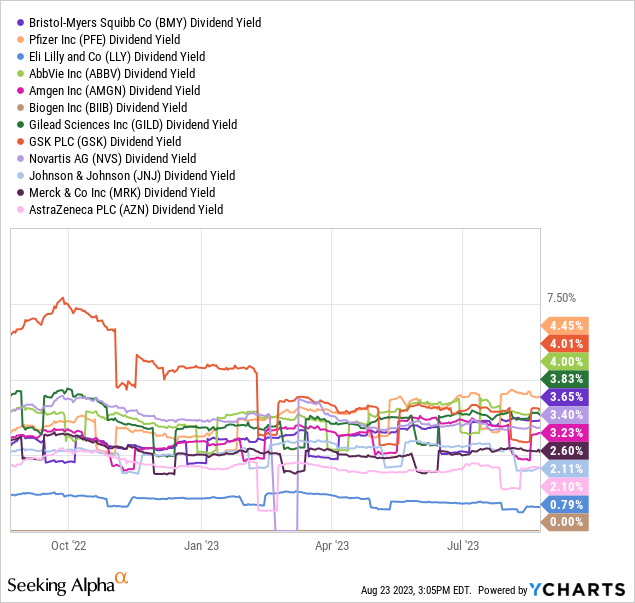 Plus, with one of the top dividend coverage ratios from earnings, BMY could raise the payout at a higher-than-typical pace in future years.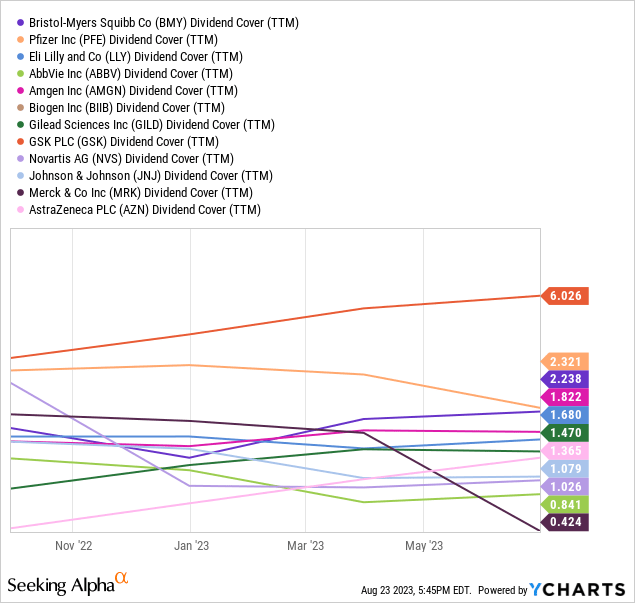 Final Thoughts
Unfortunately, there are no clearcut momentum buy signals on the Bristol-Myers trading chart. This is a cyclical pattern suggestion, based on similar weakness going into past economic recessions. Share price "underperformance" in the first half of 2000 and later in 2007 are the specific setups I find interesting. These two examples are the closet relatives to today's zigzags. If history repeats (or at least rhymes), Bristol-Myers may now experience a flood of defensive buying interest over the next 6-12 months.
Earnings and sales are not projected to rise much into 2025. On the other hand, a deep recession may not pull results any lower than the Wall Street analyst consensus estimates listed below. Where else can you find a brand-name consumer leader in the U.S. selling for a P/E of 8x, with high profit margins, a superb dividend payout, and steady operating results expected?
Extra debt and larger than I would like goodwill and intangibles are the biggest negatives I can find for Bristol-Myers Squibb. However, both of these can be corrected simply by using free cash flow and earnings to pay down debt over future years.
What are the biggest investment risks? My main concern is the stock market will fall hard this autumn like numerous previous recession patterns. I would not be shocked if Bristol-Myers declines another -10% or -20% into November, but such would be the result of a wider loss in the S&P 500 of -20% to -30%. Often, the meat of a bear market drop occurs after several years of rising interest rates, like we have experienced since 2021. Yet, I do have confidence BMY will "outperform" the general market into the middle of 2024.
A second concern is investors may become more nervous about the Medicare interference into the pricing of prescription drugs in America beginning in 2026. It's possible BMY may not be able to rise at all over the next 12 months, given a bearish equity market compounded by investors avoiding Big Pharma.
A final risk, which is always lurking around drug industry picks, is a single major drug offering could run into safety issues or capture the attention of mainstream media because of side effects or expensive pricing. Such a development could arise out of the blue and keep a lid on BMY's quote.
I have mentioned a number of pharmaceutical picks as buy ideas over the past year including Pfizer and BioNTech SE (BNTX), owning treatments which could benefit from the emergence of new COVID variants this summer. I still like both names, and would add Bristol-Myers Squibb as another intelligent, risk-adjusted, blue-chip purchase proposition currently for investors around $60 per share. I rate shares a Buy.
Thanks for reading. Please consider this article a first step in your due diligence process. Consulting with a registered and experienced investment advisor is recommended before making any trade.
Editor's Note: This article discusses one or more securities that do not trade on a major U.S. exchange. Please be aware of the risks associated with these stocks.