Introduction
BOK Financial Corporation (NASDAQ:BOKF) has been growing quite steadily as its revenues are supported by fee-based businesses has experienced higher hedging fees. BOKF has diversified its revenues quite well over the years and its historical top line CAGR over 5 years is 5.65%. Following some of the turmoil the financial sector experienced after some very notable and large regional banks collapsed the share price of BOKF tumbled but has since recovered. I find myself that BOKF is at a very decent price point right now to both benefit from further EPS growth and also be able to take part in the 2.3% dividend they have.
When I looked deeper into the recent report from BOKF I found that the loan portfolio has made some solid progress and total loans grew by 9% YoY. For investors that seek a great dividend play that can both sustain and grow it, then BOKF right now ticks those boxes. This concludes my view on the company to a buy.
Company Structure
Operating in the regional bank industry, BOKF has experienced some turmoil in the last few months but seems to be on the uptrend again as higher interest rates are showcasing a positive effect on the earnings of the company. Since its founding back in 1910 BOKF has grown its loan portfolio to over $23 billion, the recent report represented a 9.1% YoY growth for it too.
The areas of operations for BOKF are quite diverse and include Oklahoma, Texas, New Mexico, Northwest Arkansas, Colorado, Arizona, and Missouri too. Within BOKF three various segments make up the company structure. These are Commercial Banking, Consumer Banking, and also Wealth management. The first segment offers clients lending, treasury, and cash management services. Within the second segment, the operations revolve around retail lending and deposit services instead. Lastly, the Wealth Management segment does as the name suggests offer services related to private banking, insurance, and investment advisory services.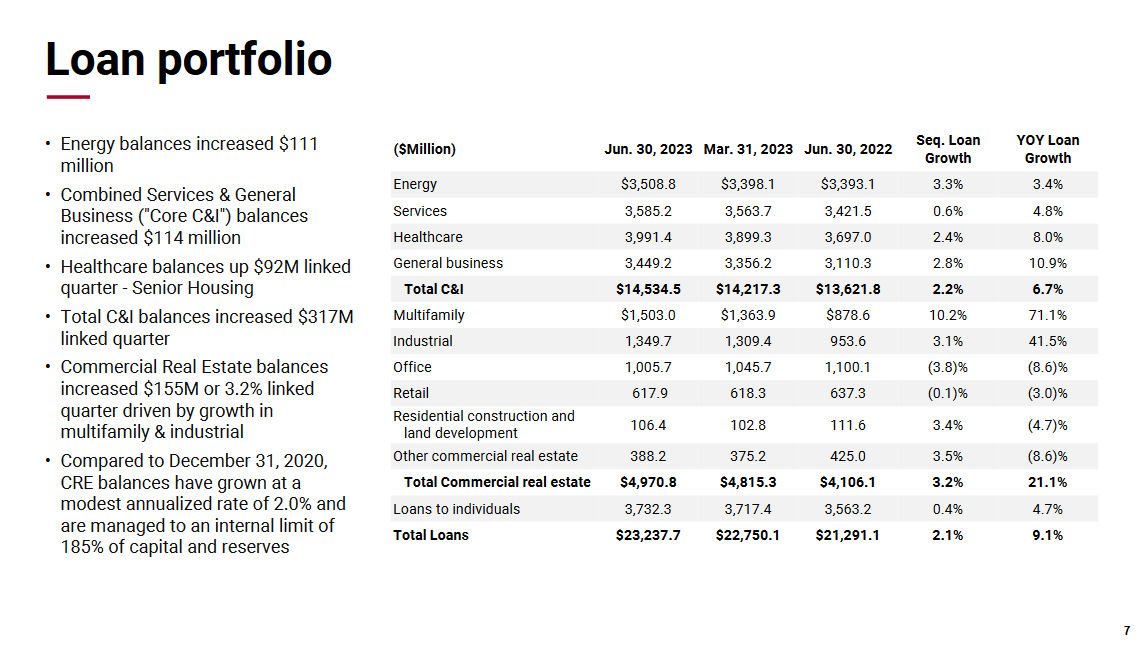 Diving deeper into the loan portfolio of BOKF we see some positive trends. Firstly the loans are growing at both a YoY and a QoQ basis. Looking deeper at the portfolio, some of the notable YoY changes come from the multifamily segment where loans grew from $878 million to $1.5 billion instead. Regarding areas where loans instead decreased, we have the office segment that stands out the most, decreasing by 8.6% YoY.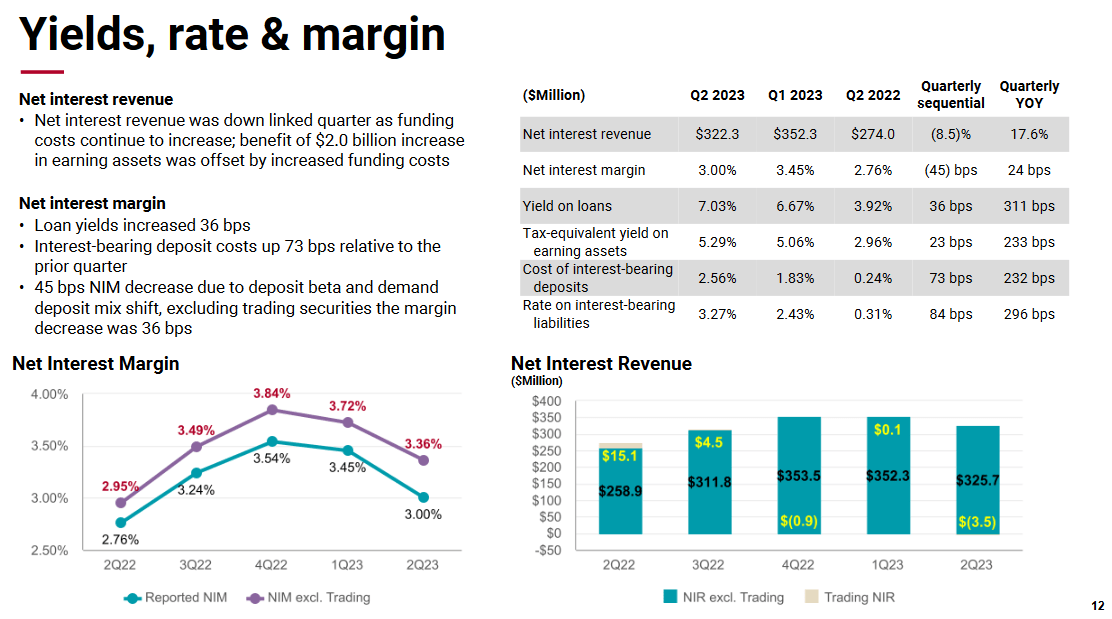 Looking at how BOKF has been able to leverage the loan portfolio and grow its ROE, it's been rather impressive. The ROE is at 13.2% which is above its historical average and 17% above the sector. This is highlighting the fact that BOKF still has a lot of potential as a dividend-distributing opportunity as the higher ROE lends them able to raise the dividend more each year.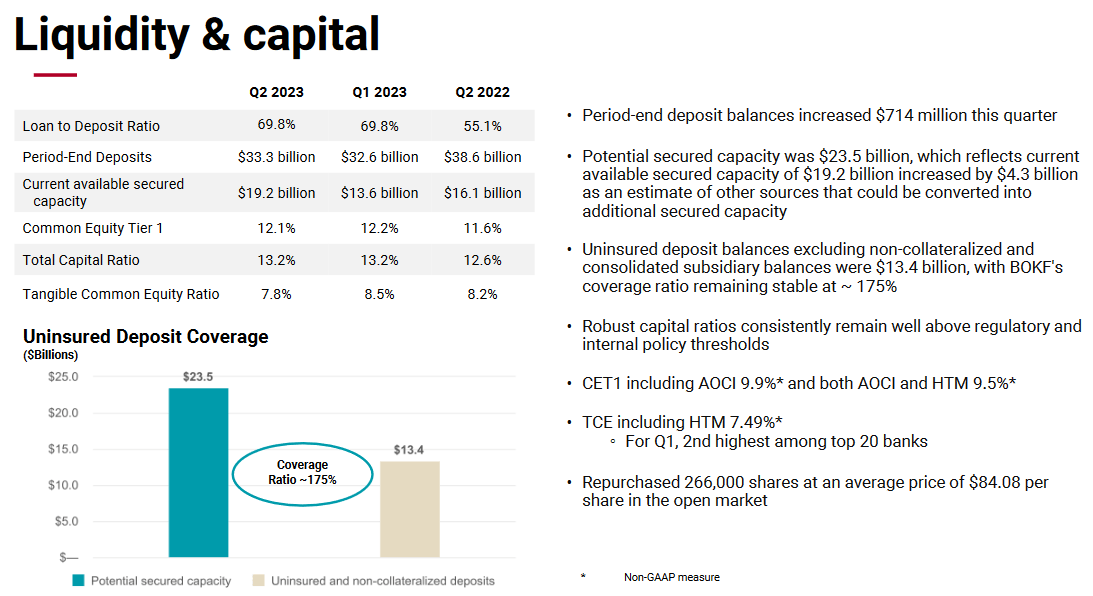 The liquidity state of BOKF right now I think is very good. The company has a loan-to-deposit ratio of 69.8% which represents a solid position and the likelihood of not being able to cover loans is very low. This is however an increase YoY and a year prior it was at 55.1% instead. Nonetheless, I find BOKF to be financially stable and proving they are capturing the potential of this heightened interest rate environment very well.
Earnings Transcript
From the very recent earnings call that the company had there are some comments worth highlighting I think. The CEO of BOKF Stacy Kymes had the following to say regarding the quarter.
"Assets under management or administration grew $1.3 billion or 1.3% linked quarter and were up $7.6 million or 8% compared to last year. The market impact on cash, equities and fixed income combined with the growth in new relationships is providing a tailwind we did not have for this area in 2022. Finally, we repurchased 266,000 shares this quarter as we balance opportunities for growth with attractive repurchase valuations".
Seeing strength across the board for BOKF they have been able to also repurchase shares which are directly benefiting shareholders. For me, I think the growing level of ROE is making this practice far easier to keep up with going forward. I think going forward we will see BOKF continue having a focus on reducing shares and delivering shareholder value during strong market conditions like these.
Risk Associated
While BOKF's financial performance remains robust, it's essential to acknowledge that even in the face of overall stability, certain challenging scenarios can exert an influence on its earnings trajectory. An example of this lies in the potential occurrence of a deposit run, which could prompt BOKF to replace its existing lower-cost deposits with higher-cost funding sources. Such a shift could potentially impinge on the company's margin, impacting its profitability in the process.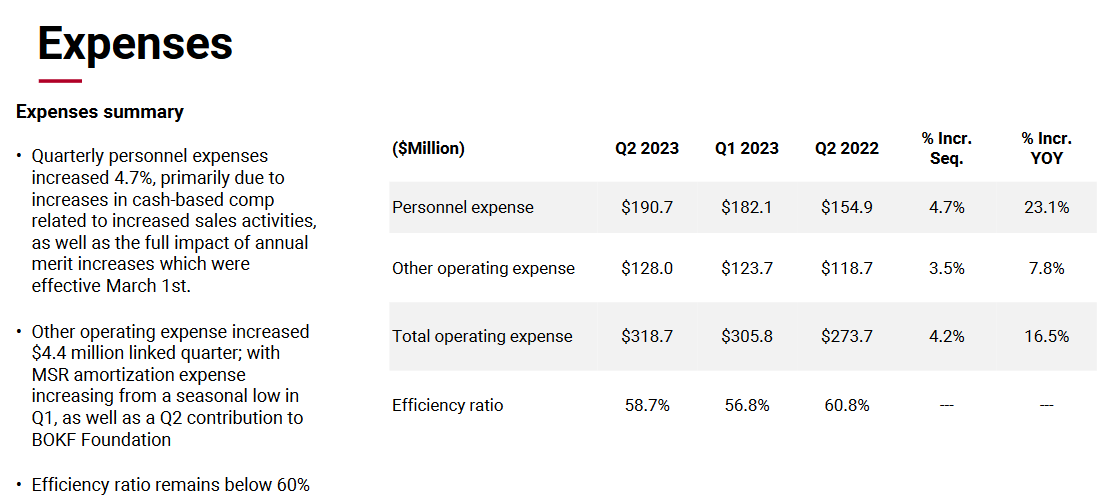 Another aspect to consider is the proactive management of BOKF's investment portfolio. In response to evolving market conditions, the company might opt to take a deliberate step by selling some of its available-for-sale (AFS) securities. This strategic move could entail realizing unrealized losses, aiming to optimize the utilization of its available funds.
Investor Takeaway
Right now, I think that BOKF is trading at a very appealing price point of around 10x earnings. Just slightly higher than the sector but I find it justified given that BOKF also has a stranger ROE than the sector average. With solid YoY loan growth too BOKF is presented as a solid investment opportunity. For 17 years BOKF has consistently been raising the dividend and I think that with higher ROE there might larger dividend increase then the 5-year average of 3.73%. As a result of my bullish view on the company and the fact NII is likely to continue to grow from the higher interest rates I am rating BOKF a buy right now.